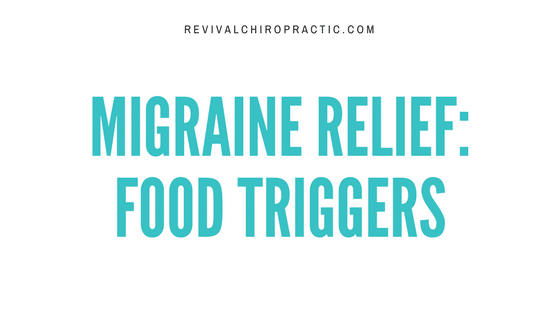 Migraines are extremely prevalent and are one of the most common issues we see in
our office. Fortunately, we are proud to report that many of the migraine sufferers that we serve have seen a significant reduction in the occurence of migraines since being under neurologically based Chiropractic care.
Some of our practice members have even seen their migraines go away completely!
While Chiropractic care can be very helpful in response to a migraine, we realize you might not be able to get to our office right away so we want to give you some help with things you can do on your own to decrease your potential for migraines.
Today, we will be focusing on food triggers.
First of all, food triggers for migraines will be different for everyone so we highly recommend
that you keep a food diary and track your migraines. Using this journal, we will be able to
determine if there's a common thread between the food you eat and your migraines. Then, you can make some simple modifications to help keep your episodes at bay.
Some food categories might exacerbate your migraines while other chemical additives might result in migraines too. Here are some of the most common dietary triggers:
Most importantly, if all of this sounds daunting, the best thing you can do is keep a food journal and document when you get a migraine. Please feel free to bring your journal to us at the office where and we'd be happy to help you find potential triggers.
Finally, remember to stay hydrated throughout the day! The best way to determine
how much water to drink is to take your body weight and divide it by 2 and that will
show how many ounces you should be drinking each day. Therefore, if you weigh 160
pounds, you should be drinking 80 ounces of water, which equals 10 cups of water a
day, at a minimum.
We've had incredible success with migraine/headache sufferers and we would be honored to serve you as well. If you have chronic migraines, give us a call to determine if you're a candidate for the type of care we provide.
We truly believe that NO ONE should suffer from migraines!